Ingrown toenails (aka Onychocryptosis) are quite common. According to the Mayo Clinic, there are more than 3 million cases per year.
What is an ingrown toenail?
Onychocryptosis is the medical term for an ingrown toenail- which occur when the edge of the nail begins to grow into the soft tissue of the toe.
At first, there may simply be a dull ache but when left untreated ingrown toenails can become quite painful and infected.
Signs of ingrown toenails include swelling, redness, bleeding and/or a pus-filled nail groove.
Shoe gear creates a dark, warm, moist environment that is a breeding ground for fungus and bacteria easily allowing for infections to set in.
It is therefore important to have your ingrown toenail examined and treated by a podiatrist as soon as possible.
Ingrown toenail causes
Many things can begin to make a toenail curl into the tissue around it. You may be cutting your toenails too short; wearing shoes that crowd your toes; you may have previously injured the toe which has changed the growth pattern of the nail. Conditions like diabetes and peripheral vascular disease put you at higher risk for ingrown toenails.
Ingrown toenails treatment
The first thing that you do is take the pressure off of the affected toe by switching to sandals or open-toed shoes.
Soak your foot regularly, if possible three to four times a day in warm water.
If you don't see an improvement in 2 or 3 days or if the pain and swelling increase, make an appointment with your podiatrist-don't let the ingrown toenail progress to the point of infection.
Treatment by a podiatrist typically involves numbing the toe with a local anesthetic followed by removing the edge of the nail.
Depending on the severity of the ingrown toenail and whether it is infected additional measures may be taken to destroy the offending nail border.
According to a study by Eekhof et al surgical interventions are more effective than non-surgical interventions in preventing the re-occurrence of an ingrown toenail.
What happens after an ingrown toenail is treated?
Typically you will have very few restrictions on your activity or footwear after treatment of an ingrown toenail.
Most people can bathe and shower normally and wear normal shoot gear right after the treatment.
Those who take part in sports or other exercise activity are usually able to do so after 24 hours without restriction.
Ingrown toenail prevention tips
Keep your toenails trimmed straight across so they are even with the tips of your toes
Wear shoes and socks that give your toes plenty of room
Wear protective shoe gear when you are performing work or other activities that put you at risk for injury to your toes.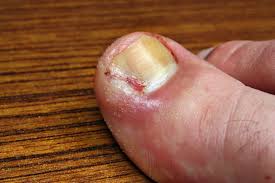 It is important to seek the help of a podiatrist at the first sign of an ingrown toenail rather than simply trying to treat it on your own.

Those who attempt to treat their own ingrown toenails without the help of a podiatrist are far more likely to suffer from infections and to have recurrences of their ingrown toenails.
If you have been suffering from painful toenails schedule an appointment with us today to see how we can help you.

Dr. Kenya Lazovik – Cliffside Podiatry foot & ankle center