Dr. Kenya Lazovik received her doctoral degree in podiatric medicine from the New York College of Podiatric Medicine and completed a podiatric residency training at St. John's Episcopal Hospital in Queens. She is a member of the American College of Foot and Ankle Surgeons, the American Podiatric Medical Association, and the New Jersey Podiatry Medical Society. She is double board certified by ABFAS for Foot & Ankle surgery and by ABMSP for Diabetic Foot Care.
Dr. Lazovik strives to provide high quality care to her patients at Cliffside Park Foot and Ankle Center. She is trained to address a wide range of medical issues such as bunions, arthritis, heel pain, sports medicine, flat foot, diabetic foot care and wound care. Her office is outfitted with digital x-ray and lasers used in the treatment of fungal nails and various soft tissue injuries.
Dr. Lazovik is uncompromising in her dedication to the well-being of her patients. She understands the needs of her patients and treats every person with the compassion, respect, and attention they deserve. She spends time with her patients to explain their condition and provide suitable options before moving on to surgery.
Dr. Lazovik looks forward to meeting and treating you soon.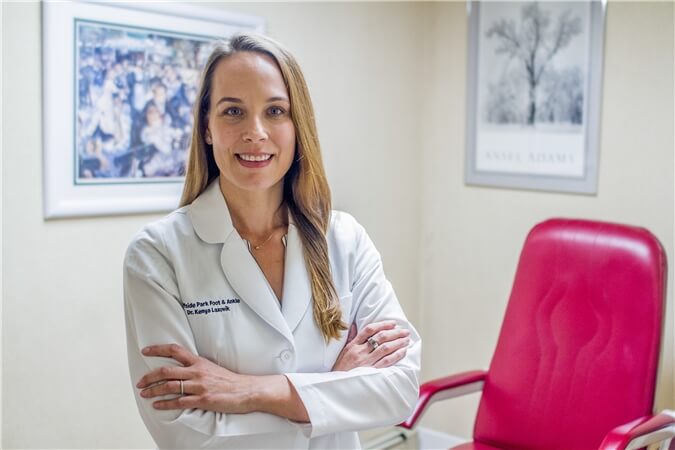 Dr Helene Manno DPM
Dr. Helene Manno has served her community in Cliffside Park, NJ for 40 years. She is a trusted podiatrist and brings extensive experience to Cliffside Park Foot and Ankle Center. Patients see her for a host of reasons, including foot infections, arthritis, foot ulcers, osteoarthritis, and achilles tendinitis.
Dr. Manno is board certified in the American Board of Foot and Ankle Surgery (ABFAS) and received her podiatric degree at the New York College of Podiatric Medicine. She has been teaching surgery to residents for 40 years and was a residency director for a number of programs. Dr. Manno is on staff at Palisades General Hospital in North Bergen and Hackensack University Medical Center.